Wrap Catering Boston
Our gourmet catering services specializes in quality wrap sandwiches for every flavour palette. Our best-selling wrap recipes includes 17 options, from healthy to hearty options. We make sure everyone gets fed with their favourite flavours  and top quality ingredients, so every bite is the best one. Grilled chicken, roasted turkey, roast beef, and vegetarian options are included in our selection of savoury sandwiches, with fresh vegetables and flavourful sauces. To us, quality is found in the details. Everything from the bread to the ratio of fix-ins influence what makes the perfect bite each time. Whether you're hosting a summer barbecue, corporate function, surprise party, or baby shower, our wraps are a light yet  filling option. We have our classic hits such as tuna salad, buffalo chicken, and western turkey. Our unconventional favourites include Elena's special, which is a fresh roasted eggplant and basil wrap, as well as our grilled veggie
wrap with melted cheese.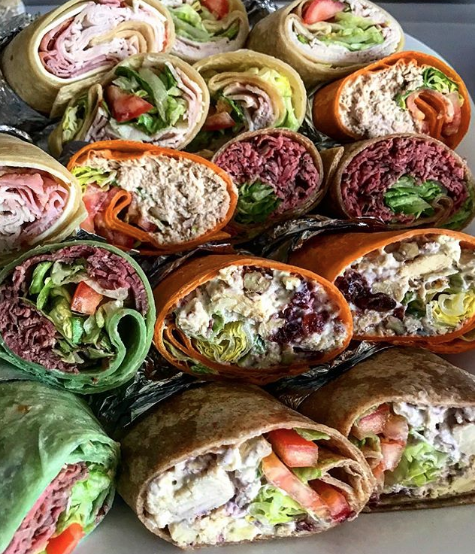 We incorporate a variety of flavours and textures to turn something basic into a complex flavour experience, made with refined simplicity. Perfect for group luncheons, family picnics, and any of life's celebrations,
our gourmet wraps are meant to be enjoyed with friends, family, and co-workers. Save yourself the hassle of cooking for a holiday party and serve our wraps as either an appetizer or one of your main dishes! If your son or daughter plan to throw
a house party for their birthday or graduation, skip the hassle of grocery shopping as we pick and prepare everything for you. Although wraps seem like a simple and basic food, we elevate taste by using fresh and seasonal ingredients to juxtapose crispy
veggies with smooth sauces and melt-in-your-mouth meats.
If you want to serve some healthy fare but don't want it to be lacklustre, our wraps offer the perfect trio of protein, carbs, and healthy fats to keep your crowd fuelled up and taste-buds satisfied. Make sure you have enough for seconds as people
always go for more. We believe good food doesn't have to be complicated and that natural flavours should be able to speak for their own. At Elena's, we make sure our recipe don't convolute the natural tastes offered by our fresh ingredients.
Our speciality wraps play with the tastes and textures of flatbread, vegetables, spreads, and meats to enhance each other's top notes and qualities.
Whether you're trying to impress a carnivore or please a vegetarian, our assortment of specialty wraps are perfectly for big parties or intimate gatherings. Our Mediterranean wrap has Greek flavours for a burst of freshness, our California
Avocado wrap is made with heart-healthy produce, and our Honey Dijon Chicken is dressed with sweet and savoury mustard sauce for a bold bite! We jazz up the ordinary sandwich by turning it into a flavour-fest wrapped up in fresh bread and tortillas.
With catering available 7 days a week, we have you next event covered so you can focus on having fun. You can trust our team of chefs will guarantee your buffet is buzzing with people coming back for more!