Elenas Salads Catering
Looking for salads catering Boston? We know just what you want. You're looking for more than just a few greens tossed onto a platter – you're looking for something that's crunchy, healthy, and colorful. That's a salad that you're eating not just because you have to – because you know those greens and other veggies are good for you – but because it's so crispy and delicious, you can't help yourself .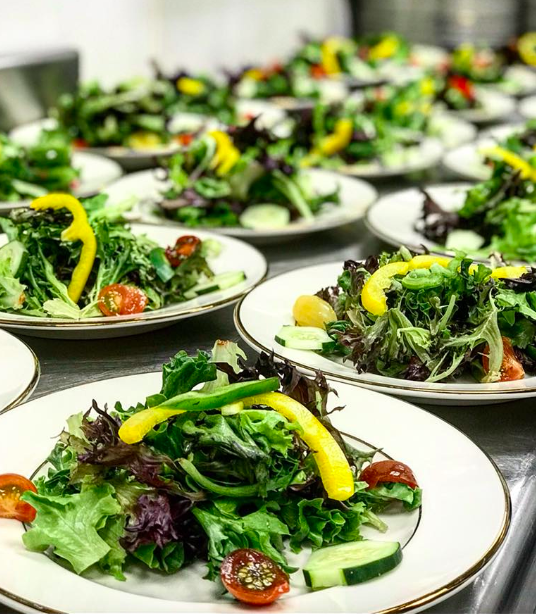 Or as we call them, second-helping salads.
What's our secret? It's really a twofold answer: we stick to the basics, and we pay attention to detail. When it comes to making our second-helping salads, we use the finest, freshest ingredients, without compromising on quality or flavor. Crisp lettuce and other brightly colored vegetables come from the market that morning. We source tofu, ethically raised meats and dairy, and many other fine ingredients from local artisan producers, while importing some specialized items like sheep's milk feta cheese from France. From great ingredients, we choose a complementary blend of flavors, textures, and colors, so that every single bite of our salads satisfies on all counts. Our house made dressings and vinaigrettes are crafted from carefully sourced ingredients, including extra virgin olive oil, and blended so that the flavors perfectly complement each salad.
You can choose from a variety of salad platters.
Caesar Salad
A classic salad with a base of crisp green romaine lettuce, topped with our own crunchy house made croutons, and shaved Parmesan cheese. The salad comes served with the traditional creamy Caesar dressing. Perfect paired with meat, cheese, or sandwich platters.
Optional – Add strips of marinated, grilled chicken for a full meal.
House Special Salad
This bright, beautiful, and tasty salad includes fresh mozzarella cheese, sweet cherry tomatoes, red onions, and fragrant fresh basil on a bed of mixed field greens. We recommend pairing this flavorful salad with the balsamic vinaigrette dressing.
Greek Salad
.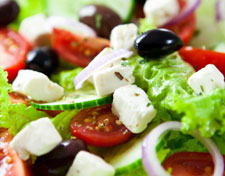 A popular favorite because of its blend of savory flavors, crunchy finish, and attractive presentation in green, red, black, and white. Made with mixed leaf lettuce, tomatoes, Kalamata olives, pepperoni, cucumbers, green peppers, feta cheese, and sweet red onions. Served with our delicious Greek dressing.
Garden Salad
A classic salad suitable for any first course, or as a side dish on a buffet table. This salad is made with crisp iceberg lettuce, tomatoes, carrots, cucumbers, red and green peppers, and red onions. Because of its subtle flavors and crunchy texture, you could pair it with virtually any dressing or vinaigrette.
Cob Salad
This salad is a meal unto itself, chock full of vitamin-rich crunchy vegetables, and a variety of sources of high quality protein. It's made with crispy iceberg and softer romaine lettuce, tomatoes, cucumbers, hard boiled eggs, crumbled bacon, slices of fresh avocado, Gorgonzola cheese, and grilled chicken. A substantial salad that will blend well with a variety of dressings and vinaigrettes.
Mediterranean Platter
This is why the Mediterranean diet is considered ideal – a healthy and flavorful blend of vegetables, protein, and traditional favorites from the sunny region. The platter includes roasted red peppers, fresh roasted eggplant, stuffed grape leaves, fresh mozzarella, Kalamata olives, and cherry tomatoes.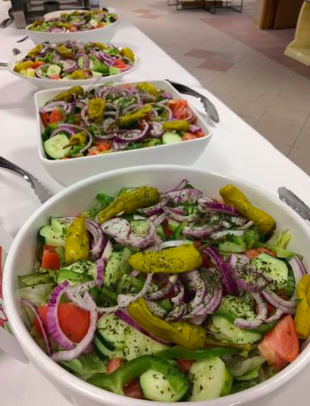 Vegetarian Platter
Please the vegans in your crowd with this tasty platter made with a variety of seasoned fresh vegetables. Served with creamy ranch dressing.
Berry Salad
A fruity and delicious salad with an attractive presentation. Made with soft baby spinach leaves, strawberries, blueberries, pecans, and goat cheese. A delicious blend of flavors and textures that goes well with your choice of vinaigrette.