We try hard to serve people on all our locations, and from time to time we got some very nice comments, and this is what means a lot for us. We got some complains to (and we always solve them ASAP) but about complains some other time.
Hello Elena,
I wanted to send along a BIG thank you to Marcella and Ada for all their hard work this week with the Board Meeting.  They did an outstanding job!  Their professionalism showed through in their presentation, timeliness, and customer service.  Please let them know how appreciative we are for all their hard work!
 Regards,  Holly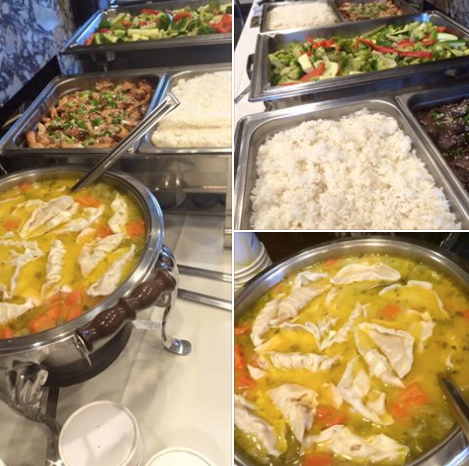 ---
Also I just had your wedding soup and chicken salad sandwich – oh my goodness – I am fussy about chicken salad, and it was one of the best I ever ate! And the soup was awesome, fresh tasting and not greasy… Delicious.
Vanusa is a sweetheart too!  Love her… she is the best. I just started working for here for Dr. Scott, the President, 4 weeks ago. I am so glad there are delicious healthy choices for breakfast and lunch.
Best,
Donna
—————————————————–
Hi Elena –
Just wanted to say thank you for all the hard work today! I know you and your staff were juggling a lot of things and everything has gone perfectly!  Thank you! Karen
 Karen D'Arcy
Conference Center Manager, Meetings and Events
National Fire Protection Association
————————————————————
Good morning Elena,
I wanted to thank you again for a job well done with our breakfast on the 9th of May.
The staff was thrilled to have a hot and delicious meal before classes started for the day.
The food was yummy, plentiful and enjoyed by all. Again, thanks for all your hard work and assistance with putting this together with me.
Hopefully, we can work together on more functions in the future!
Many thanks,
Carol and the grateful staff of North Quincy High School
—————————————–
Elena –
Thank you so much for EVERYTHING! The food was amazing and the presentation surpassed expectation.
I am based in DC but will definitely utilize your services again when back in town.
I have included my colleague Jim (James) in this email who too was extremely impressed with the presentation and competitive pricing…wanted to introduce you two for possible future engagements of service.
Thank you again for your flexibility in assisting with the last minute lunch request too!! A LIFE SAVER!
All my best to you and I cannot say THANK YOU enough for your services!
Best,
Danielle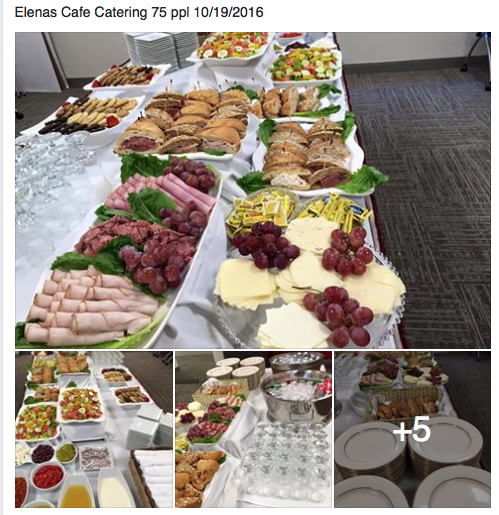 ————————————–
Good morning, Ricoh would like to thank you for the complimentary breakfast.  Everything was delicious.
Francine DeMichele
Sr. Administrative Assistant
RICOH USA
————————————–
This si one comments we got . Thank you Rose  for this feedback.
Name: Rose Marie
Email Address: rose.harrington1@encompassins1.com
I just want to send a nice message with regards to the staff at the café at 4 BATTERYMARCH PARK. Bruna and all the girls are the nicest staff so friendly and always with a smile for us. I know it can get crazy busy at lunch hour but they are so sweet and nice it's a pleasure each day to see them. Even with picky customers always demanding they are so professional. I HEAR PEOPLE IN LINE ORDERING AND NOT EVEN SAYING PLEASE AND THANK YOU And the girls keep smiling and being professional. So just wanted to let you know they really are a nice group to have and we love them. Have a great rest of the day.
This is our location at 4 BATTERYMARCH PARK.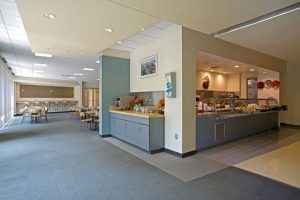 ——————————————-
I feel that Venuza and Herald are doing an excellent job – everything has been wonderful (service, personal assistance and flexibility, the quality of the food, table display, clean up). It's been a joy working with them!
Regards,
Marie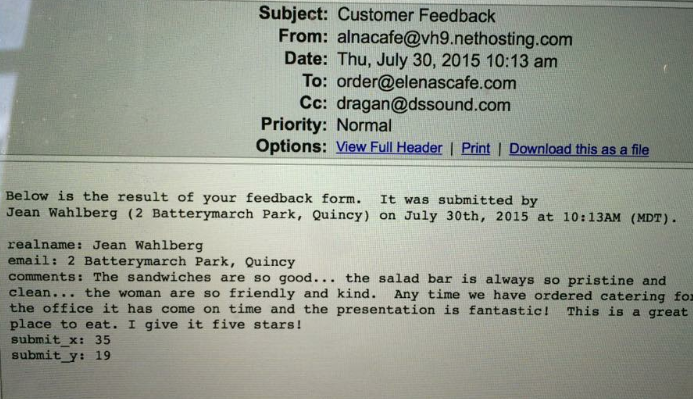 Some nice  words from Noreen
————————————-
Good afternoon,
I frequent the Café at 4 Batterymarch and I just wanted to let someone know about the excellent service from the girls.  Always hard working with pleasant attitudes and a smile.  So often people are quick to complain but not as quick to send a nice word or compliment.   Bruna and her counter parts are a great balance to each other and I enjoy speaking with them when I pop in.  Keep up the great work ladies 🙂
————————————–
Hi Elena,
Just want  you to know that EVERYONE was talking about the delicious food and presentation today! Thanks.
Regards,  Peter/
Good morning, Ricoh would like to thank you for the complimentary breakfast.  Everything was delicious.
Very thoughtful to do this for new tenants.
Francine DeMichele
—————————————-
Just wanted to let you know I'm currently in 1896 proctoring the Fire Inspector exam with 18 people testing – there were 27 in the training.  All week the class talked about how much they LOVED the food!!  Also they love the meeting room and space. This space offered us tables for the training and round tables for eating and they also used the rounds for breakouts and used the TV screens around the room to do video quizzes.  They all said they really liked coming to NFPA to take the training and exam – better than a hotel – a quote.  I wanted to pass this along to you.  Thanks for your assistance!!
Laurie Solomon
NFPA Certification Department
One Batterymarch Park