Elena cafe catering services in Boston area, are our core business, and we make that right, for all our clients. Our regular clients know all about us, but every day we got new ones, and they ask us all kind of questions about our catering services. Most common question is what they can get for 30, 50, 150  people for under $10 per person.
Catering menu options  under $10
 Catering breakfast or lunch priced under $10 per person includes:
Salad
Soft drink
Cookies or Brownies
Here is the  choices for sandwich or wrap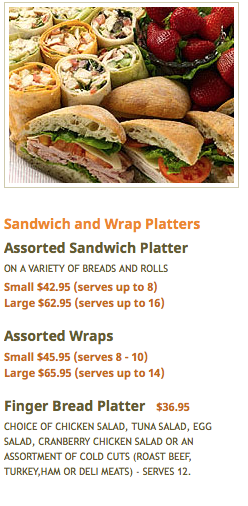 More under $10 different choices :
Hot lunch Buffet Trays
Meatballs Trays
Chicken Broccoli and Ziti
Stuffed Chicken
Chicken Marsala
Chicken Parmesan
Lasagna
Chicken Victoria
Chicken Wings
Steak Tips
With any choice above (1 dish) you will get  soft drinks and salad, cookies and brownies for under $12 per person.
Another very popular option is:
Hot breakfast per person with coffee and juice, come with  price under $10 per person, and includes:
Continental Breakfast
Muffins
Croissants
Bagels
Juices
Cofe
Sometimes  you need something small, inexpensive. We can make you some option priced under $7 per person. We can make some combinations from:
Assorted Sandwich Platers and
Assorted Wraps
Salad Bar
Assortment of Deli meats and Cheeses
Garden Salad
Caesar Salad
Anything you need, please call us
Catering available seven days a week |
Let our experienced catering consultant to plan your party. Call 781-888-1364