Cafe for your property
Have an empty office or want to upgrade your building? Add our cafe into your office building to keep your staff well-feed and fueled for their work day. Our food services were made to offered to industrial building and professional offices so employees don't have to worry about missing lunch or arriving late from their lunch break. Skip the UberEats or waiting in long lines when you can just go down the elevator! We serve healthy and wholesome meals and snacks to ensure everyone has the proper nutrition to work at an optimal level.
Any questions?
Call us  781 888 1364.
Order delicious sandwiches, freshly-baked goods, and your favourite coffee without having to leave work! Elena's Cafe serves you and your employees everything they want  for breakfast, lunch, and snack time. Those who stay overtime can grab extra food and coffee to keep them going, even when everyone else is done. Move a meeting to one of our tables to enjoy a coffee while talking business instead of the stuffy  meeting room. Now both early birds and night owls can have something to munch on while they crunch numbers of click their keyboards. Our artisan sandwiches, juicy burgers, and fresh eggs with toast will keep everyone going. Muffins, fresh fruit,  and salad bar are also options. Our industrial kitchen and experienced chefs offer exactly what your employees need for a satisfying meal.
Check out our existing location in Boston area.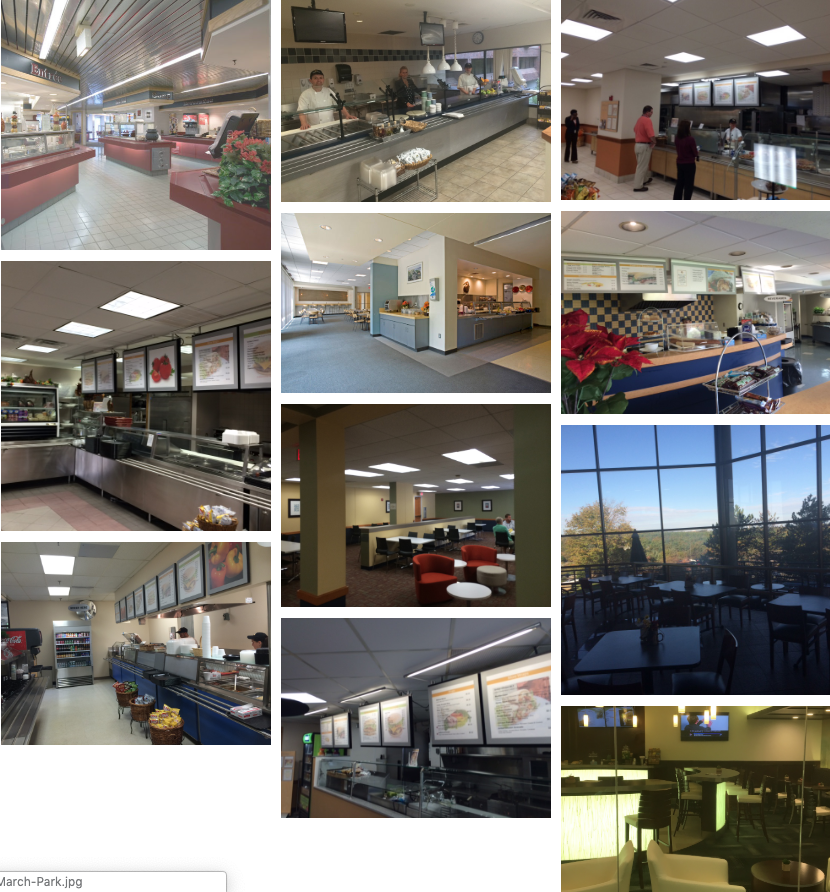 If you have the case of the Monday's everyday, Elena's Cafe always has a fresh cup of coffee ready for you. Wake up and smell the coffee with our on-site cafe at your workplace. You can skip the lineup at Starbucks to catch some extra with our convenient work-place locations. Order freshly brewed coffee, homemade sandwiches, and delicious baked goods in between meetings or during your lunch break. If you have another late night working overtime, work more efficiently on a full stomach! As a premier corporate food service provider in Boston, you can find Elena's Cafe in some of New England's highest-esteemed office buildings. We serve breakfast so you can hit your snooze button for those few more essential minutes, as well as healthy lunch options so you don't have to pack one. Whether you prefer a two shot espresso or iced-latte, get your morning dose of energy with our premium coffee blends and brews. Not a coffee person? Order fresh tea or a fruit smoothie
for some extra-fuel on a busy day. If you're a snacker, our buttery croissants, fluffy muffins, and baked banana-bread make great desk-side snacks while you work, or save them for later during an after-hours work session.
Your work's cafeteria food shouldn't be boring! It should be nutritious, delicious, and adventurous since it allows you to work better, harder, and faster. Good food supports good work, which is why we cater to providing well-balanced and wholesome dishes for your convenience through-out the work day. As if your 9-5 isn't stressful enough, don't worry about getting your daily amount of protein, carbs, and good fats. Our balanced meals range from eggs and toast to pastrami and turkey specialty sandwiches. Our salad bar is the perfect customizable lunch option for those who like to do it themselves. Make a side of your own zesty house salad as a side to our hickory smoked sandwiches or grilled chicken wraps. If you're looking for lighter fare, our fruit salad or oatmeal are filling without weighing you down during a board meeting.
Our On-Site Food Options:
Choose from a variety of breakfast, lunch, and snack options!
Daily Breakfast – Choose from a variety of eggs and toast including scrambled with bacon or ham and french toast! We also offer Kashi cereal, oat bars, fresh fruit, and yogurt.
Omelettes – Our combinations include Western, Veggie, Italian and more options for the perfect balance of eggs, meat, or veggies.
Baked Goods – Enjoy fresh-from-the-oven treats such as muffins, croissants, danishes, bagels, and more for a warm, fluffy, and doughy midday pick-me-up.
From The Grill – Whenever you want something hearty or need to satiate a craving, our grilled options always hit the spot. Order a freshly flipped burger, gooey grilled cheese, fresh veggie pocket, tuna melt and more. Grilled to perfection
and juice, our savoury grilled dishes will keep you going.
Cold Sandwiches – Our simple cold-cut sandwiches taste just like home. Made with quality ingredients and fresh bread, these aren't your ordinary sandwich.
Elena's Wraps – Our customer favourite wraps are delicious and easy to eat. Our prime selection of meats, veggies, and spreads make endless flavour combinations. Try our best-selling Honey Dijon Chicken or Samy The Bull options for a refreshing
yet filling meal.
Elena's Speciality Sandwiches – Our elevated sandwich selection features more complex flavour combinations to transport you out of office!
We promise to deliver you delicious and satisfying meals to make your work day a little yummier!