Elena's Barbecue Services Boston Area
Welcome to Elenas Café BBQ Catering Services
Elena's café team caters barbecues and Clam Bakes in all areas of Massachusetts.
Clam Bake
Lobster
Clams
Mussels
BBQ Chicken or Sausage
Corn on the Cob
Choice of salad (House, Greek, Mix Green, Wedge Salad, Capresse)
Strawberry short Cake or Water Melon
Market Price

PLEASE NOTE - There is the charge for BBQ Catering
$200 for attending Chef
and $100 delivery charge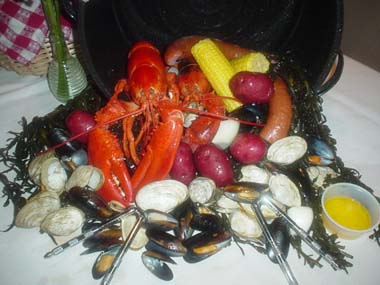 BBQ # 1
Our Signature Steak Tips
Kayem all Beef Hot Dogs
BBQ Chicken
$ 16.95
BBQ #2
Our Signature Steak Tips
Pulled BBQ Pork
BBQ Chicken
Certified Angus Burgers
$ 19.95
BBQ #3
Sweet Italian Sausage w/peppers & Onions
Certified Angus Burgers
Kayem all Beef Hot Dogs
Veggie Burgers
$ 18.95
BBQ #4
Beef Burrito
BBQ Chicken
Certified Angus Burgers
Veggie Burgers
$ 18.95
BBQ #5
Hand Carved By attending Chef
New York Strip Steak
Chicken Shish Kabob
Mexican Chorizo with Salsa
$ 22.95
Choice of three side dishes & watermelon Wedges, Cookies & brownies Homemade ice Tea & Lemonade (All the above includes Disposable Dinnerware)
SIDE DISHES:
Potato Salad,Garden salad,Pasta Salad, BBQ Baked Beans,Corn on Cob, Baked Macaroni & Cheese, Corn Bread, Asian Pasta, Potato Chips,Cole Slaw, Rice.
Elena's Ice Cream Social
Your Choice
Tahitian Vanilla
Chocolate Strawberry
Other choices available up in request
All the toppings included $5.25 per person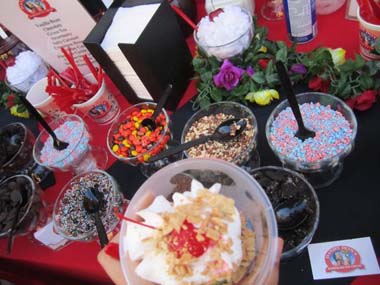 PLEASE CALL US OR EMAIL FOR ANY QUESTIONS OR MORE OPTIONS
ELENAS CAFÉ WILL GLADLY CUSTUM DESIGN A MENU THAT WILL PLEASE ALL OUR GUESTS
PLEASE FOR BEER AND WINE LICENCE NOTIFY US 30 DAYS PRIOR TO THE EVENT
CONTACT OUR TEAM AT
order@elenascafe.com
OR CALL 781-888-1364
Finding a BBQ Catering Service in Boston
Whether it's a private party or a professional event, a barbeque menu will certainly make things more exciting for all. Barbeque is no longer about roasting a few meat options at family picnics or friends' reunions. Rather, BBQ catering in Boston these days offer a mind-boggling range of services and amenities for a first-class party experience for both the host and the guests. So if you are planning to host a party any time soon, its time you considered a barbeque menu instead of the traditional fare.
Rising popularity of BBQ Menu
When planning a party, food is of course the most important aspect to keep in mind. Whether you plan to invite fifty or five hundred, the menu served must appeal to one and all. Classic barbeque menu with all its bells and whistles is a popular option with most.
With BBQ catering in Boston you can arrange for wholesome meals with just a few items or make it as elaborate as your budget permits. Barbeques are therefore suitable for hosts working on a limited budget or those looking for a fuss-free menu that can be handled easily by all age groups.
Barbeque also rekindles nostalgia of lazy; robust home-cooked meals served at grandma's tables which people find so appealing in today's hectic world. But perhaps the best reason for the rising popularity of barbeque menus is their health factor. Barbeque preparations are not only superb in taste but wonderfully healthy too if you can pick and choose the right ingredients.
Finding an Awesome Barbeque Service
Understandably, barbeque is high on the list for most people who are planning to host a party any time soon; especially with the advent of summer. This also means a lot of catering companies are offering this menu and you must know how to select the best one.
Check with Friends for References
The best way of finding a good BBQ catering in Boston area is to ask among friends and acquaintances. Ask people who judgment you trust and who know your preferences and limitations. It would be wonderful if you can get the details of a barbeque caterer whose services you have experienced and enjoyed at a friend's or relative's place.
Alternately, go through the internet or your local yellow pages for details of barbeque catering companies in the area. If doing so, always shop around and compare at least three service providers before deciding. Evaluate as many caterers as possible on different parameters such as quality of food, ingredients used (organic/fresh/local/seasonal or processed), style of preparation and so on.
MASSACHUSESTTS STATE CONSUMER WARNING
Massachusetts State Consumer Warning raw or undercooked meats, poultry, seafood or shellfish may increase your risk of food borne illness